Registration no. : MPA 13252 dated 4th January 1989
We would like to introduce to you our firm GROUP PHI ARCHITECTS & DESIGNERS as a group of efficient professionals conversant with all branches of Architecture, town & country Planning & Interior designs.
We established ourselves as a partnership firm & have been extremely fortunate to cater our services to many of the reputed establishments in & around Maharashtra (Pune, Mumbai, Khed- Rajgurunagar, Ratnagiri), Indore-M.P., Faridabad-Haryana, Dehradun, Bangalore, Kolkata, Ahmedabad, Jaipur & Udaipur) & overseas projects in Singapore & UK.
We have completed various projects which includes Residential Bungalows, Apartment, Mass Housing, Redevelopment Projects, Residential Holiday Resort, Residential Interiors, Corporate office Interiors, Industrial Projects, Industrial Campus development, Institutional R & D Centers, Institutional projects / Campus planning, Heritage Conservation Restoration, Infrastructure projects, Sports complex, Auditorium, Clean room planning, Low cost construction projects etc.
Any project whether it is Architectural, Interior designing or campus planning, which works out successful if the client gets a total satisfaction. This is possible only if can get deeply involved in the project & study all the clients requirements from the initial stage of planning & designing for ultimate user. This practice will definitely give birth to a complete design in terms of function form, utility & aesthetics. The project may be small one or large scale, it must be given same importance & attention to achieve the high standards of design & quality.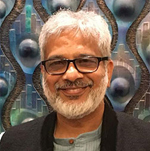 Hemant S. Mahajan
Architect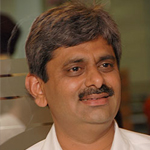 Prashant P. Shah
Architect
Mr. Hemant Mahajan and Mr. Prashant Shah both have passed from B.K.P.S. College of Architecture Pune in the year 1986.

Member of :
IIA, CA, IIID, IGBC, AESA, FEED, HSM – Approved Valuer

Featured in various Magazines & Journals such as :
Journal of Indian Institute Architects (JIIA), Indian Institute Architects (IIA), Indian Architect & Builder (IA&B), INCITE Publications (IIID), Audi Solutions, Sound Solution, A & I Digest, KALP (AESA) , Snowcem, Home Review, Journal of Landscape Architecture, Design Vista etc.
Well furnished office premises of around 2715 sq. ft. along with 24 hours backup and generator facility.